Mrs. Ernestina had 2 sons and 3 daughter. The youngest is her daughter Mrs.Helena br.Tobing, until now has been lived in their old house in P.Siantar. Mrs. Helena was a head master of a Catholic Primary School, unfortunately since her pensions time she has got a kind of Alzheimer disease.
The photo of Mrs. Helena Lubis br. Tagalung (the youngest daughter) and her husband Mr.Lubis was taken recently in my sister's ( Bintang Irene ) wedding party on January 21st, 2006.
My mother said she remembers that old family photo of Mr. Theodoric L.Tobing, Mrs. Ernestina, and their children was hang in wall of their house in Pematang Siantar. My mother aunt - Mrs. Helena br.Tobing - untill now lives there with her family. But I have called her husband and he said he didn't see it there any more. My mother said, she will take time to go there - 2 hours from Medan - to find out.
Yesterday, my mother made the trip to Siantar, but unfortunately she did not get the old picture she told me before. She 'just' got 3 ulos left, one is wove by Mrs. Tianur ( smaller Sadum ) and others are Mrs. Ernestina collections that given to her daughter Mrs. Helena They are Ragi Hotang, ulos from Porsea, for marriage ceremony by the elder to the younger, and especially to cover dead body of someone old enough or already has grandchildren ( sarimatua; blessed person in her/his ages with rich heritages )
My mother doubt those ulos wove by her grandmother.

About Sadum my mother said it's origin is Hutabarat. Mrs. Ernestina's village - Hutagalung - is near Hutabarat, so maybe it was easy to learn from neighbor village.
from Mrs Helena ( Mrs Ernestina's collection : 2 Ragihotang, Mrs Tianur's weaving : Sadum ).
and from Mrs Helena (Mrs Ernestina's collection):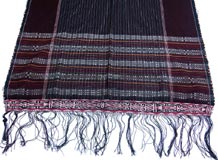 2 Ragihotang,
Mrs Tianur's weaving:
Sadum).
-Ragihotang3, was taken together with the other Ragihotang1&2, but the photostudio ( and maybe me, too :-) )might have been confused to choose this Ragihotang to be burned and saved in cd.
This Ragihotang was Mrs Ernestina's collection and given by Mrs Helena to my mother when she made trip to Siantar. as thin as Ragihotang2, and thinner than Ragihotang1. It has no bead. Good condition. Ages about more than my mother's ( 62's ).
Mrs Helena is four years older than my mother. In my sister wedding she had no idea why she was there even she still knew each one of us; pity on her, she thought then she had left home (in Siantar) for a long time and suddenly she went out quietly from my house (in night before the wedding) and got lost. My husband and my brother then found her an hour later and she had been walked for about 8 Km on barefoot! She said she wanted to go to her friend house which is in Siantar. And in the wedding day, she didn't want to eat and always asked to go home.
go to Indonesia country page
-
go to Indonesia photogalleries and articles
---
Maria DRT Ambesa is the daughter of Vera Tobing and an architect now living with her husband in Java. She has been the essential intermediary allowing these fine textiles and their story to be shared. She arranged for the family ulos to be photographed and has worked tirelessly, together with her mother, to track down information about the ulos, their weavers and to extract memories and photos of the past from a family who have been amazed that there should be any interest in their history or value placed on it as background to the textiles. Maria's patience, persistence and endless cheerful support plus her excellent English, have made the 'Vera Tobing collection' not only possible but a thoroughly enjoyable study to develop.
Both Pamela and Maria are very grateful indeed for the encouragement and advice which they have received from Sandra Niessen, a leading expert on the Batak and their textiles. See an autobiography and Batak references for more information about Sandra and her publications.