Name : Namarpisoran
Age : About 100 years
Dimension : 76 x 194 cm (include fringes)
Condition : Very good weaving and complete beads.
Story : My mother's grandmother (Mrs. Ernestina br.Hutagalung, born in 1890) weaved this Namarpisoran herself, when she was a young girl (16 years old) lived in Huta Harean, (village in area of Tarutung), North Tapanuli, North Sumatra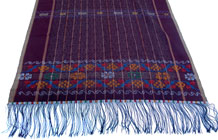 Name : Sadum (A)
Age : About 100 years
Dimension : 70 x 222 cm
Condition : Special weaving motif, but the border beads are not complete.
Story : My mother's grandmother ( Mrs. Ernestina br.Hutagalung, born in 1890) weaved this Sadum herself, when she was a young girl lived in Huta Harean, (village in area of Tarutung) , North Tapanuli, North Sumatra.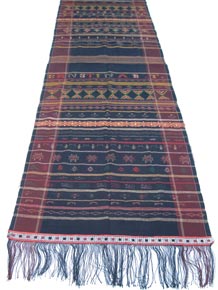 Name : Mangiring (A)
Age : About 100 years
Dimension : 76 x 228 cm
Condition : Very good weaving, but some of the beads in rectangular motif are lost.
Story : My mother's grandmother (Mrs. Ernestina br.Hutagalung, born in 1890) weaved this Mangiring herself, when she was a young girl lived in Huta Harean, a village in Tarutung, North Tapanuli, North Sumatra.
Name : Mangiring (B)
Age : About 100 years
Dimension : 70 x 180 cm
Condition : Good weaving, simple, no beads.
Story : My mother's grandmother (Mrs. Ernestina br.Hutagalung, born in 1890) weaved this Mangiring herself, when she was a young girl lived in Huta Harean, a village in Tarutung, North Tapanuli, North Sumatra.
Our family names : Tobing , Hutagalung, Hutabarat, Tarihoran (my mother's grand pa, my mother's grand ma, my grand ma, my father), are all from Tarutung area. Those names are the kampung (village) names, too. The Tarutung's people doesn't like it to be called Batak Toba (group). They prefer Tapanuli ( which is the name of the hill area where the villages around Tarutung are. And they are North Tapanuli's people. (South Tapanuli is called Batak Mandailing). And Batak Toba's people is form villages around Toba Lake, Samosir, and Balige. It takes about 2 hours from Parapat / Lake Toba to Tarutung.

In Tarutung my grand ma and my mother's grand ma waved the ulos.
Yes the Mangiring ( and the other ulos like Namarpisoran you asked )was made by my mother's grandmother for herself to wear in special occasions like traditional wedding party, ceremony of the 7th month pregnancy of her or her daughter, baptism of her children, and any other traditional occasions. Yes, she have worn it over her shoulder.
Mrs. Ernestina br Hutagalung was a daughter of a Guru Zending Nommensen-Huria Kristen Batak Protestan (HKBP) Church. Guru Zending means like the board in church organization that developed the Christian mission ( of Ludwig Nommensen who founded the first church in Batak's Land; HKBP ). Unfortunately my mother doesn't know Mr. Hutagalung's name. Maybe it is the influence of Batak's habit that taboo to say the older name. Mrs. Ernestina had one sister from her first mother and seven brothers and four sisters from her second mother after her first mother was dead.
Miss. Ernestina was married to Theodoric L. Tobing, the grandson of Raja Amandari Sabungan ( Tobing ) who was the closed friend of Mr. Nommensen because Amandari had saved him from the assassination plan of another raja in Batak's Land. Until she had 3 children ( of five ), her family moved from Tarutung to Pematang Siantar ( 2 hours from LakeToba, 2 hours from Medan ). The reason of moving was because her husband got a job as Manteri Blasting ( Netherlands government's head of Simalungun district for Taxes ) and this job was awarded because of Tobing-Nommensen connection.
My mother said, the ulos which Mrs. Ernestina weaved, all when she was in Tarutung. In P. Siantar she only weaved blankets ( after her husband pensioned ) because she had just a little time as a wife of government's important officer she had another activities.

Mrs. Ernestina had 2 sons and 3 daughter. The eldest was my grandfather, Tahi Sumurung L.Tobing (past away in 1994), was working in Government Tax Office in Medan. Her younger son was Dari Walter L.Tobing (past away in 1994) was working in Military Administration Office. The third was her first daughter, Mrs. Barita br.Tobing ( past away in 1980's ). The fourth is Mrs. Oloan Theresia br.Tobing, now lives in Pekanbaru ( next province of North Sumatera ), as the owner of a few rent houses. The youngest is her daughter Mrs.Helena br.Tobing, until now has been lived in their old house in P.Siantar. Mrs. Helena was a head master of a Catholic Primary School, unfortunately since her pensions time she has got a kind of Alzheimer disease.

Mrs. Ernestina was dead on 1982 ( in May ). She was 91 years old. Her relationship with my mother was very closed, maybe because my mother is her first grand daughter and had her breast breeding because of my mother's mother was sick then, and my mother was taken care of her grandmother until my mother was a teenager ( lived in P.Siantar ).

Since 1975 ( I was 9 years old ) until the end of her life, Mrs. Ernestina had been lived in my house in Medan. She was my room mate. She was a nice, calm, and patience old lady. She taught me patiently the bored school assignment's cross stick :). My mother adores and loves her more than ( to ) her mother.
Mrs. Ernestina's grave is besides her husband's, in Tarutung. Her husband was dead in 1972 in P. Siantar, and his bones was moved to Tarutung in 1979.
Mrs. Ernestina's photos is saved by my grandmothers, and unfortunately they are not used to send anything by mail, so I must ask my brother to handle them and it would take some time.
The name of Mrs.Ernestina's father was Mr. Elkana Hutagalung. He was a guru zending, it means he was educated by the missionaries from Europe - the zending - to be a priest. He was one of many guru in Silindung ( batak's land hill area; Tarutung is the town ).

Mrs. Ernestina wove Mangiring before she got married ( 16 or 17 years old ---> 1906 - 1907). Her age when she got married maybe about 18 - 20 years ( 1908 - 1910 ).
A special memory of Mrs. Ernestina sometimes appears when we were talking about our family. In 1980, when all my family gathered in Pematang Siantar for ceremony of Mr.Theodoric L.Tobing's bones to be moved from Pematang Siantar to Tarutung. In Tarutung, after the ceremony, we expressed our give thanks to Lord in traditional party. In the night I had a dream of Mrs.Ernestina. In my dream she was in a chariot, such as a ( village ) queen, followed by many people behind her, and the village people made sounds like they so much adored her. When I woke up, I thought maybe I was too much impressed by her nature of elegance and / or calmness ( even when she was critisized by her daughter in law - my grandmother - sometimes about tradition matters which my grandmother always keep straightly ).
Pamela, please forgive me for my big mistake about the place of grave of Mrs. Ernestina and her husband ( my memory is not very good, ya! ). They were buried in Pematang Siantar ( Mr. Theodoric on 1971, and Mrs. Ernestina on 1982 ). The bones that we moved - from P.Siantar to Tarutung - on 1980 were Mrs. Ernestina's mother in-law's. Moved to be buried beside her husband Mr.Jakobus L.Tobing ( the son of Raja Amandari Sabungan L. Tobing, and he was the keeper of "Surat Balga" / Great Letter where Raja Amandari and Nommensen become brothers was written ).
*If I could defend my self for this mistake, I would say because of we used to call the elder all the same, only : ompung! :-D
It takes 2 hours from Medan to P. Siantar. From Tarutung to P. Siantar takes 3,5 - 4 hours. Yes, P. Siantar is in Simalungun area. The big problem I have heard that Mrs. Ernestina and family had to face in Siantar was about their decision to change their church to be Catholic. It happened when my mother was 13 yrs old ( 1956 ). Mrs. Ernestina's mother in law was lived with her family in Siantar since Mr. Jakobus L. Tobing died. 1956, Mrs. Jakobus died, when Mrs. Ernestina's husband was out of town for his duty. HKBP church didn't make service for Mrs. Jakobus death ( my mother haven't told me yet the reason of HKBP ). When Mrs. Ernestina had have found out about it he was very upset and decided to be out from HKBP and became Catholic communion. Until now, my aunt and my uncles from my mother side are Catholic. My mother's church is Protestant Charismatic ( after my step father died ), and mine is Pantekosta because I follow my husband's.
Yesterday, my mother made the trip to Siantar, but unfortunately she did not get the old picture she told me before. She 'just' got 3 ulos left, one is wove by Mrs. Tianur ( smaller Sadum ) and others are Mrs. Ernestina collections that given to her daughter Mrs. Helena They are Ragi Hotang, ulos from Porsea, for marriage ceremony by the elder to the younger, and especially to cover dead body of someone old enough or already has grandchildren ( sarimatua; blessed person in her/his ages with rich heritages )
My mother doubt those ulos wove by her grandmother.

About Sadum my mother said it's origin is Hutabarat. Mrs. Ernestina's village - Hutagalung - is near Hutabarat, so maybe it was easy to learn from neighbor village.
The actual weaving of the ulos, as my mother told me:

-People in Tarutung or Porsea used to spin the threads from local cotton before the imported threads brought by traders.
Sadum B uses imported colour threads and my grandmother did not dye them.
All the beads brought by traders from India.

-The colours was from liquid from black tree's skin or the essence of it's body/wood, created by 'textiles colour man' in Samosir village. But this was just for dark color, because my mother remembered her grandmother talked about Gambir / Kemiri tree's liquid and Pinang tree's fruit which done by village people for brighter colour.
Gambir's fruit is one of spice of Bataks / Indonesians. And Pinang's fruit is one of ingredient of chewing sirih ( buah pinang+sirih leaves+kapur [ like soft chalk ] = good teeth, but make teeth have terracotta colour )

- Mrs. Ernestina did the ikat binding ( some of village people still do this technique ). She ikat/bound the plain warp threads very tightly so they would not permeable by the colour during soak process. Then they were rinsed, dried, and untied, then dyed.
I remember why Mr.Ernestina joined us in Medan on 1975. My mother and my father had been lived separately since 1970 and my mother divorced him on 1975. My grandmother could not approve the divorce what ever the reason. She said it would humiliate our family because it has been never before a divorce happened formally in batak family and ( my grandmother was catholic ), even more if a wife divorces husband. And she was right! All the people around us suddenly knew my family because one of the vocal local news paper released news about us for years. In 1980 my mother married my step father who was Moslem. Again, my grandmother was very very upset. So, in the hardest years of her life, my mother only be supported by her grandmother. Although a few years before my grandmother died my mother and her mother became better in their relationship, I could see that they had never been so closed as my mother and her grandmother was.
Mrs. Ernestina and her husband had been spoiled my mother even more than her youngest daughter, since my mother was born until teenager. Since early her high school, when she had to stay with my grandmother in Medan, she became sick frequently ( then we knew the reason was because my grandmother was a little 'mean' to her ). Her first big mistake was being a runawaybride just to be aparted from her mother. She was 18 yr old.
- 3 Ragi Hotang, the collection of Mrs Ernestina, more or less are in same ages ( 70-75's, older than my mother's ages; 63 ). The condition, one is good but has some tear like in Mangiring B. Others have broken link of beads on each side of ulos ( the beads only on sides of ulos ). Base colour: dark brown and dark maroon. Size: average 100 cm x 210 cm.

*Ragi Hotang from Toba-Porsea.

-2 Ragidup. Very good condition. One was Mrs Tianur's collection, she recieved when 7th month of her first pregnancy ( she was carrying my mother ) as "ulos tondi". Ages about 63. Base colour: very dark maroon. Size: 90 cm x 210 cm.
The other one was Mrs Ernestina's collection,she received it from Mrs Tianur's parents in my grandmother's wedding on October 27th 1942 as "ulos pansamot". From its condition I think its age more than the first one. Base colour: bright maroon. Its long line's motif is simpler than the first one, and has indigo coloured lines. Size: 105 cm x 210 cm.

*There are Ragidup from Tarutung-Hutagalung-Harean and Simarangkir and from Toba-Porsea.
-2 Sibolang. One was Mrs Ernestina's collection. Age about 75's. Very good condition. Simpler and thinner than the other one. Base colour: black with simple indigo lines. Size: almost 90 cm x almost 240 cm.
The other one was collection of Mrs Tianur. Good condition but has a tear. Age about 50's. Colour: major indigo with black along both sides. Size: 100 cm x 240 cm.

*Sibolang is from Toba-Porsea.
Mrs Ernestina did learn in mission school. About the lettering of her name I think maybe she has been created in embroidery before wove it, because she were good in embroidery too.
Tarutung has many villages around it. Each village belongs to - or found by - a family and called this village as family's name: marga ( surname ) such as Hutabarat village, etc., but marga Hutabarat has some groups too and their villages are : Sisunggulon ( my grandmother's ), Parbaju, and Partali. Hutagalung has: Harean ( Mrs Ernestina's ), Ina-ina, Napitupulu. The location of these villages are not too far from the town Tarutung.
The ulos tondi is given to give the embryo something that would be able to protect it like a blanket.
Yes, the ulos pansamot is gift given by the bride-giver to the bride-taker.
I think I could send you a detail map of Tarutung but it would take a week because my source has to find it in local government office and send me by post mail. The Hutagalung area we mentioned before are in Tarutung area, not outside as in North Sumatra Province Map. Unfortunately my mother has no idea about that Hutagalung village far from Tarutung.

The ulos, if said it is from Porsea or Tarutung, means it is originally made by people from Porsea or Tarutung and until now they make their own ulos. But in ceremonies, it's no problem if those ulos - which given or taken - from other village of the people who involved in the ceremony.
Ulos:Part2 Ragihotang All are Mrs Ernestina's collection

Ragihotang1: Complete beads but has tears
Ragihotang2: Broken beads

P.S
There is one more Ragihotang. It is similar to Ragihotang1 but no orange coloured horizontal lines, its cloth is thinner, and no beads.
Its file must has been forgotten to be burned from the photographer's computer. Maybe because of the similar appearance of them to the photographer. I will send you later.
Ulos:Part1Ragidup
Ragidup1: Ulos pansamot, from Mrs Tianur parents given to Mrs Ernestina and Husband.

Ragidup2: Ulos tondi, from Mrs Tianur's parents given to her in her's 7th month of pregnancy.

Ulos:Part3 Sibolang&Sadum
Sibolang1: Mrs Ernestina's

FamilyPhotos:Part2
Mrs Ernestina's family1: on wedding day of Mrs Tianur's second son.
The photo was taken when family were ready to go to bride's house. They were on front terrace of Mrs Tianur's house.
Mrs Ernestina was on left behind the green flower, next right to her Mrs Tianur, Mrs Tianur's husband, Mrs Tianur's son - the groom-, my mother, my mother's sister in law, and my youngest sister.

Mrs Ernestina's family2: when all family were taking breakfast in Mrs Tianur's house before went to bride's house.
Mrs Ernestina's Grave has proofed that I was wrong about the year of her death :-)
The words mean:
Dison maradian = RIP
( Op. Pitta Boru means Ompung Boru=Grandmother, Pitta is from my mother's name -Veronica Pintauli br.Tobing- and my mother is her eldest grandchildren from her eldest son ).
When I collect information about my family history to the member -in case about things which my mother doesn't remember- I faced various reaction. First, why...?, then what for...? and just now when I asked about Mrs Ernestina's marriage -the year and why she got married in adult age / not teenager- and when she moved to Siantar, my mother's aunt -the 4th child of Mrs Ernestina : Mrs Oloan- answer that she had no idea, and then she even told me that our family ( including herself ) are so stupid because we've been ignoring our history. Then she shared her sadness because she remembered that Mrs Ernestina had been almost closed the door to her grandmother's life ( Mrs Ernestina had a step mother after her mother had died ) so that they found out after they were grown up.
Back to Mrs Oloan, she remembered when Mrs Ernestina gave her the Sadum which Mrs Ernestina's name is written, after she's just got married, Mrs Ernestina said that the ulos was woven by herself when she was a young girl or in batak : namarbaju. Namarbaju was the common age of the weaver that time.
Then Mrs Oloan gave the ulos to my mother when my mother had ran ulos business.
Mrs Ernestina was born in August 1st, 1893 and died in January 19th, 1985.
We are sorry we have no data of year when she got married and moved to Siantar.
What I have got just that she married in late age of namarbaju, and as Mrs Oloan told me, Mr Theodorik might be first had had journey to Siantar with his family because of Surat Balga ( Grand Letter / Brotherhood Memorandum of Amandari with Nommensen ) that had been used to get a position in Netherlands government, then married Mrs Ernestina.

Mrs Ernestina's first son, Mr Tahi Sumurung L. Tobing ( Mrs Tianur's husband ) was born in Siantar, February 3rd, 1919 and died in Medan, January 13th, 1995.

From datas above, the ages of ulos woven by Mrs Ernestina maybe right. Namarbaju common ages is 14's up to 18's because older than those ages the namarbaju must have been married. But now I doubt she got married when she was 18 - 20, because her first son was born when she was 26. Except she'd been difficult to get pregnant ? Her second son had first child after a few years, Mrs Oloan too, my first and second uncle, my two sisters, and now I am.
The wedding in family photograph was in August 14th 1981
My mother decided to sell the 'new' ulos because she has no good place to keep them well. All the 'new' ulos are given to her from Mrs Ernestina (her collections :
Sibolang1

Ragihotang1 ),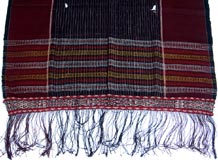 from Mrs Tianur ( her collections :
2 Ragidup Tarutung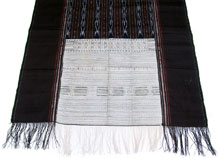 Sibolang2,
from Mrs Tianur her weaving:
Selendang Sadum),
and from Mrs Helena (Mrs Ernestina's collection):
2 Ragihotang,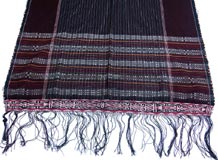 from Mrs Helena (Mrs Tianur's weaving):
Sadum).


I think it is possible the namarbajus liked other villages design as Mrs Ernestina did. From the elder story I heard that they enjoyed weaving like our -new- age teenagers enjoy fashion mode.
About the difference of Ragidup Tarutung and Toba / Porsea, is in their pinarhalak. In Toba version it can be fulfilled with various motif. Later, from photo Ragidup Toba -Vera Tobing collection- you can see its pinarhalak more clear -or vocal ?- but if compared to Tarutung version you can see Tarutungs is finer.
The symbol of male or female is just same in Tarutung or Toba version. The photos of agidup1&2 I have sent, both are Ragidup Tarutung. But Ragidup2 has ikat line motif - the center band- like Toba version.
She (Mrs Ariatna), my mother and Mrs Oloan don't know the name of Mrs Ernestina's mother. Just know that she was br. Sitompul and the stepmother was br. Simarangkir. Mrs Ernestina was the eldest. Her sister from same mother was Mrs Loise. From Mrs br. Simarangkir, Mrs Ernestina had 6 brothers ( Johan, Elias, Jarius, Marius, Albinus, and one other ) and 5 sisters ( Jenny, Ashima, Maria, and two others ). Mrs Ariatna also said it is true that she heard about the untold story about Mrs Ernestina's mother -br Tobing- and the reason might be because they were all so closed and Mrs br Simarangkir treated her step children just as the same as her own children.
About the old photos, ( I think - in about 1953, if my mother was 10 ) Mrs Ernestina looked not much younger than she was in 1981 photos, and she was prettier when she was older ya. Family's photos were taken in Siantar ( I remember the rotan chairs ).
(From left to right)

-Mrs Ernestina'sFamily1: Mr Dari Walter, Mr Theodorik, Mrs Vera, Mrs Ernestina, Mrs Oloan.


-Mrs Ernestina'sFamily2: Front: Mrs Vera, Mrs Tianur with Mr Parulian on her lap, Mr Simon, Mrs Ernestina with Mrs Ariatna on her lap, Mr Theodorik, Mrs Lina - Mrs Ariatna's eldest sister -, Mrs Barita with Mr Hotasi on her lap - Mrs Ariatna's eldest brother -, Mrs Oloan.
Behind: Unknown, Mr tahi sumurung, Mr Manulang - Mrs Ariatna's father -, Mr Dari Walter.


-Mrs Ernestina'sFamily3: Mrs Vera carried Mr Parulian, Mrs Ernestina with Mr Hotasi on her lap, Mr Simon, Mr Theodorik with Mrs Ariatna in his lap, Mrs Lina.
Mrs Loise – Mrs Ernestina's full (younger) sister (mother - Mrs ? br.Sitompul, step mother Mrs ? br.Simarangkir)
I have re-measured the ulos. Now the fringes are included.
Ragihotang1: 230 cm x 86 cm
Ragihotang2: 248 cm x 79 cm
Ragihotang3: 232 cm x 79 cm

Sibolang1: 264 cm x 88 cm
Sibolang2: 280 cm x 104 cm
Ragidup1 / Pansamot: 228 cm x 108 cm
Ragidup2 / Tondi: 244 cm x 92 cm

(Small) Sadum: 188 cm x 57 cm
Selendang Sadum: 189 cm x 45 cm
About Ragihotang of Mrs Ernestina's, my mother doesn't know if it was given by Mrs Ernestina's father. And her Sibolang, my mother is sure it was given by Mrs Ernestina's hula-hula ( her family of Hutagalung ) and not as ulos tujung ( from her mother, at the time of bereavement worn on the her head during the mourning period ).
Maybe it is also story about Mrs Tianur's Sibolang. ( Mrs Tianur died in Medan, April 15th, 1994 and Mr Tahi Sumurung died in January 13th, 1995).

Mrs Ernestina's mother was br. Sitompul and step mother br. Simarangkir.
Ariatna br.Manuling, Lina br.Manuling Barita br.Tobing and Mr Manulang Hotasi L.Manuling, should be Manullang. I am sorry if I was used to write manulang not manullang.
-From VTfamily page too, Mr Manulang husband of Ernestina and Theodorik's eldest daughter, Barita); should be manullang
My mother had been lived with Mrs Ernestina in Siantar since she was born until got married in '60. She just had been lived with her mother for a year -in third junior high school- and back to Siantar because she'd been sick all that year. I guess like a home-sick ya. Mrs Ernestina her self breast feed my mother, after 4 years gave birth her youngest child Mrs Helena. Her breast had no milk anymore, but -my mother said it was a miracle- after consumed wine, tuak (traditional drink from palm tree), and bangun-bangun (a kind of vegetable for breast milk production) her breast could be filled with milk again.

About quality of Sibolang, my mother said she taught to appreciate the value from its fine thread weaving technique and performance (or appearance/look?) of its sirat. When I saw them that way, I can see that Mrs Ernestina's ikat finer but the sirat have same quality (the sirat colour of Mrs Ernestina's is brighter but Mrs Tianur more artistic to me). Another Sibolang of Mrs Ariatna's (from Mrs barita), is like Mrs Ernestina's but in decreasing colour of its ikat and sirat. My mother didn's know if Mrs Tianur received her Sibolang from her father.
Her ulos tondi was from her parents. Mrs T was the first child from mother br.Tobing. Her illness after gave birth might be a kind of baby blues syndrome. But from Mr Lirou I heard that Mrs T had been disappointed with her husband, who was unable to cheer her. I think Mrs T had a great expectation of her husband who as long as I know just a calm, quite, and simple man. Mr Tahi was not involving his self in any organization or adats and had no bright career. They found each other by match-maker help, Mrs T's uncle the shoes trader.
Mrs Lirou had a a run-away marriage = mangalua (1972), not because of her parent or her become parents in-law didn't approve but because of 'the condition' she said, which couldn't make adat wedding possible to be ran. They made the adat after she have children, but her father had died (1970) .
"As for the Simarpusoran (or pisoran) with beadwork (na marsimata)--- that was a fad in the colonial era. I adore those textiles.The sirara na marsimata are of similar ilk. Simarpusoran are still made, but they are no longer the rage as they once were. Alas! And that kind of beadwork is also a fad of the past. The textile is named after its ikat patterning." S Niessen
And Harean. Do you mean Hutagalung Harean? Paul Hutagalung here in The Netherlands originates from Hutagalung Harean. He is an amazing networker and, through his Bona ni Pasogit website, could help you get in touch with Batak in Europe. I shall also forward to him the relevant part of your email that you sent to Janneke. We'll see what happens.
The Silindung Valley is a very dear place to me. I am a br. Hutabarat, from Parbaju, and I lived in Hutagalung Harean for 8 months with wonderful people. Indeed, the Silindung Valley, colloquially known as Tarutung after the city in the middle of the Valley, is the headquarters of the HKBP, and is teaming with villages and people. My ito (brother) lives in Hutagalung and I phone him regularly (Skype calls). I'm trying to get him here in May to see the exhibition, and he may come with some government people who are trying to promote local products, like weaving. I should find out this week or next... He could be a wonderful resource, as well. His mother was a br. Hutabarat. I can't help but feel intuitively that there are many people (of the right generation) in the villages who would remember your weaver.
My Mother has Mrs Ernestina's little land and a few houses in Siantar. Beside ulos and rice land, in adat Silindung there is a father's gift to his boru before he died. So if the gift is not yet given when he died, his boru can have right to his legacy. I heard this from Mrs Ariatna's husband, who knows much about adat batak.
I want to inform more for family tree.
Mrs Ernestina's children:
1. Tahi sumurung L. Tobing married Tianur br. Hutabarat
2. Marta Barita br. Tobing married .....Manullang
3. Oloan br. Tobing married ... Hutagalung
4. Dari Walter L. Tobing married M br. Sipahutar
5. Helena br. Tobing married ...Lubis
About the picture, this photo was given by Mrs Oloan when my husband made trip to Pekan Baru on 28 March. This is the only photo she has. It was the funeral of Mr Theodorik in 1972. Unfortunately my opung Mrs Oloan wasn't unable to explain clearly to whom the ulos that was ready to be given by the man who had it at his hands. She said it might be for the children or grandchildren of Mr Theodorik.
First line from Center:
LMA Tarihoran, Vera br. Tobing, Helena br. Tobing, Oloan br.Tobing, Hutagalung (Mrs Oloan husband).
Second line:
M br. Sipahutar (wife of Mr Dari Walter - her head was between my parents), Parulian Tobing, Tianur br. Hutabarat, Tahi S L Tobing.
I think Mrs Ernestina's might be at the far right (after Mr Theodorik's head, because a widow normally takes position on head side of the body). I remember I was there (6 yr old), you can see the head of a little girl at left side of very little girl might be me. That very little girl in white dress might be my youngest sister Bintang, she was 2 yr old then.
I think it was ulos Mangiring A on Mrs Helena's shoulder and Sadum A on Mrs Oloan's shoulder. Mrs Oloan didn't remember why she choose sadum then.
This photo looks pretty much par for the course. The coffin in the middle with the encumbent" covered by a Sibolang. Close family members wearing sibolang and surisuri. Hula2 on one side and boru on the other. I'm blown away by how many sadum are being worn in 1972. Clearly a foto from the Silindung Valley???
I am pleased you enjoy and appreciate Mr T's funeral photo. About Mrs Ernestina's position, I meant she was not shown in the photo (sorry, I was wrong in saying far right?).
And about my parent's 'important' position, I remember my mother said, it was my father who pointed to be the writer of Mr T's legacy.
Ok, back to beads, I remember the beads of Mrs E's ulos are different from the beads of today ulos. I don't have any idea where the new beads are come from.
Ernestina's position, I think like usual, the widow sits on the same side of the coffin with her children. I don't remember if Mr Simon was there.
Both Sibolang (Mrs Ernestina's and Mrs Tianur's) and Ragihotang 2 (Mrs Ernestina's).

Mrs Ernestina wore her sadum even when she went to church. The ancestors even daily.
Hutagalung (the order is: Harean (us) the first, Tuan Napitu the second, and Ina-ina the third).
About Guru Zending. I made mistake again, from Mr Kasman I knew that Guru Zending is a teacher (not a pastor) in a school that ran by HKBP. Zending schools teach reading, writing, etc., but the most is religion. From Mrs Oloan I knew that Mr Elkana didn't spend his teaching time just in Tarutung but was being moved a few times but she didn't remember the places.