textiles in the life of Pamela A Cross
| Personal statement | Textile collection | Textile related book collection | Textile photographs | Textile travels | Website(s) and forum |
all text & images © Pamela A Cross
Click on thumbnails for full size images
Personal statement
Textiles have been my interest and obsession for as long as I can remember. My mother, until this 2002 when she lost much of her sight, has always been an active sewer and, apart from dressmaking, has made lampshades, knitted, tackled light upholstery and thought nothing of dying a fabric or trim to get the particular shade she required. My father, before retirement, was a civil engineer and always turned his hand to any aspect of DIY which was needed. He was always ready to draft a pattern and, immediately on retirement, made some clothing. For several years until his death in March 2002 he worked on needlepoint and it became a major focus of his life.
In the 1950s when funds were tight and my parents were having a new house built they bought a weaving loom. As a small child, I threaded up the loom with my father, he then cut the thrums and my mother, with some help from myself, made a large plain thrum carpet in several strips for the lounge. I now have the loom but my aim of one day weaving my own fabric has not, so far, been realised. I sewed clothing for years and occasionally still make one or two garments. In the late 1970s a visit to the USA stimulated me to start patchwork and then quilting and I was a founder member of The Quilters' Guild of England and Wales (or The Quilters' Guild as it was originally known.) I quilted and pieced through into the late 1990s but most of my creative interest is now focused on digital photo presentation and video editing on the computer centred around my ethnic textile interests and travels.
As a child I collected dolls from around the world, captivated by their costumes. I read Thor Heyerdal's 'Kontiki' and 'Ra' and was fascinated by the idea of tracing the movement of peoples around the globe and the detective work of finding the signs of their travel from the items which they left had behind them or in the continuing traditions of their descendants. For me identifying ethnic groups by comparing the outcome of crafts used to make household items (including the homes themselves) but especially the different aspects of clothing has become a greater and greater fascination. My interest is particularly in the items made by people for their own family use rather than the often higher quality items made by expert crafts people for the well to do - although I appreciate the technical quality of the results of such skills. top
Textile collection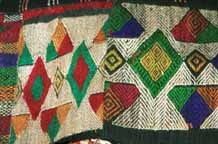 I have an eclectic textile collection from around the world but the main emphasis is on clothing from Asia especially China, Indonesia, Japan, Laos, Malaysia, Myanmar, Thailand and Vietnam. The Chinese, Myanmar, Thai and Vietnamese pieces are particularly centred on those of ethnic minorities. I have a small number of textiles from Latin America which includes pieces from Bolivia, Guatemala and Mexico. From North American I have a couple of Hopi and Navajo weavings. Most of my European textiles are from Central and Eastern Europe. Africa is poorly represented in my collection.
Although I am always looking out for interesting textiles to purchase wherever I am in the world, the largest concentrations have arisen from my trips to specifically see and photograph ethnic groups and to collect their textiles. Once I have a group of textiles from a particular ethnic group I will then always be seeking items to improve or widen the collection. Many of the textiles are from earlier periods and always, if possible, those which have been made for personal wear and consumption and not for the tourist trade. However, quality modern pieces using traditional skills and aimed at a discerning market are of interest, especially when this is keeping age old skills alive. top
Textile related book collection
I have a continually growing collection of textile related and ethnographic books and catalogues. This originally started as an accumulation of books on patchwork and quilting but this early collection will probably soon be drastically thinned out to make room for literature on what has become my overriding interest in traditional textiles from around the world. I particularly look for well illustrated volumes to aid identification of textiles collected and photographed. See bibliographies for books listed on a country basis. top
Textile photographs
My textile photographs relate to textile related journeys or museum or gallery visits and to my own collection - which I hope in due course to photograph and document systematically in its entirety. A new aspect is web-sourced photographs and articles. Exposure on the web has led to several requests for my photos to be used in various external projects. See details of this use. top
Textile travels
For about the 13 years prior to my retirement in 2006 I was spending three to four months of each year overseas. However, this was not - regretfully - for the purpose of researching or seeking textiles but in relation to my job as Director, International Office at the University of Kent at Canterbury. This involved making several recruitment trips around the world and included many visits to Asia. Although my work-related travel left little time for personal exploration, I was ever the opportunist looking for an hour or so to squeeze in a to visit a museum, exhibition, textile dealer or to meet up with a www.tribaltextiles.info/community forum member (see below). On a couple of occasions I was able to include a few days of holiday with a tribal textiles focus within or at the end of my working itinerary.
Focused textile-related visits which have resulted in significant additions to my collection and photographs of ethnic minorities setting the textiles in context include trips to parts of:
Click on name to go to Country - Click on thumbnail for full size image
I am always seeking information on museums and galleries around the world with textile collections and antique shops and dealers which specialise in textiles. Some of my most pleasurable encounters abroad have occurred whilst sharing information and enthusiasm with local experts and fellow textile collectors. top
Website(s) and forum
In spring 2000 I decided to launch my own website www.pacross.net which would feature my textile, photography, video and computing interests. I had a general idea of using the web to display my photos of ethnic minorities and their textiles - then featuring Thailand, Vietnam, Myanmar and Indonesia plus some Central European costumes. My first trip to South West China was planned for that later that year. At this stage I had little idea of how this would develop. The site was launched in May 2000 with several photo galleries loaded. During the rest of that year and into January 2001 more and more galleries were launched including 13 on China with a strong Miao focus. The site was submitted to several search engines and was gradually featured and started to be accessed. I began to receive a steady trickle of international enquiries which surprised me by the breadth of interest from a very international audience, although with a predominantly US bias. Interest ranged from an Alaskan fireman trying to identify Miao jackets which he had collected to a White Hmong fashion student in New York. I received requests to use photos for schools programmes in York (UK) and Minneapolis. I launched a forum in July 2001 to provide an exchange point for questions and information between fellow enthusiasts. top
The launch of the new website names .biz and .info stimulated the idea of devolving the tribal textile material onto a separate site and building a more in depth 'resource' site with reference and other material. The tribaltextiles.info name was requested and secured on launch of the new names. The Christmas/New Year university closure saw an intensive study programme of Dreamweaver, design of the new tribaltextiles.info site and conversion (laboriously page by page) of the pacross.net textile material. On 6 January 2002 the new site was launched, quietly subjected to further testing and tinkering and then submitted to the major search engines. top
2002 turned out to be a difficult year on a personal basis and not nearly as much progress was made on getting new material onto the site as had been planned at launch. However, by the end of December some progress had been made on launching bibliographies for several countries and revamping the links page - two targets for the year. There is much work still to be done with a breakdown of existing material on the tribaltextiles.info site so that it can be accessed not only on a country basis but also by different ethnic groupings. top
In June 2003, with the invaluable help of friend and (then) colleague Jose Casal, a new forum www.tribaltextiles.info/community was launched and, later that year, a key facility added - the ability to add files, particularly images. This is a robust and flexible forum based on phpBB. The development of this forum community and the sharing of information on tribal textiles seems to have taken over much of my life, unfortunately somewhat at the expense of further development of the main website. However, sharing textiles, books and other information has vastly increased my own knowledge and put me in touch with fellow enthusiasts around the world. I am continually encouraging (nagging!) forum members to share their textiles and experience with us. Some amazing textiles have been posted. A few of these new friends are not only virutual but I have been fortunate enough to meet them during my travels around the world.
There still remains some material from Myanmar and everything from Indonesia still to be worked on and most of the photos from my 2001 and 2005 trips to China (Guizhou) as well most of my own textile collection. I hope to be able to add this to the main website over time as well as additional material supplied by other contributors in the form of articles, studies and photogalleries.
| Personal statement | Textile collection | Textile related book collection | Textile photographs | Textile travels | Website(s) and forum |