Indonesia - North Sumatra Diary - March 1997
In 1997 I was in Indonesia in late February and March as part of my then role as Director, International Office for the University of Kent from which I am now retired. I had planned that, after working in Medan, I would make a long weekend trip from Medan up to Lake Toba in an effort to see something of the culture of the Toba and Karo Batak especially their architecture and textiles. The diary below is a short summary of my trip and the acompanying photogalleries illustrate a little of what I saw. I did not realise then how, nearly a decade later, I would find myself immersed in Batak culture with special friendships arising from a unique family collection of Toba Batak textiles. In 1996 I had made my first visit to Medan and collected my first Batak textile and it was this which had stimulated my interest in making the 1997 Lake Toba trip.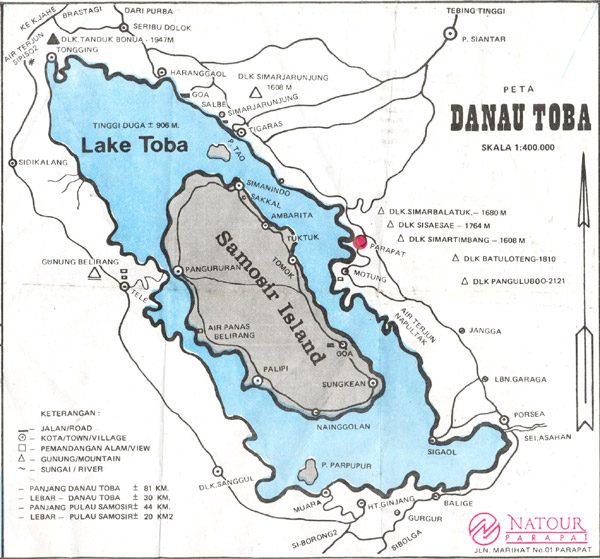 Medan
During my 1997 stay in Medan I purchased two textiles: One was a Selendang Malayu Batu Bara. Batu Bara was an important trading town on the north east coast of North Sumatra and a centre of weaving enterprises. The second was an Batak ikat shoulder cloth which was sold as Simalungun from Pemantang Siantar (the centre of the Simalungun Batak region). I have subsequently asked Batak textile expert Sandra A. Niessen for advice on this cloth and she identified it as a bintang maratur which looked as if it came from Samosir Island on Lake Toba and would, therefore, be a Toba Batak cloth.
Friday 7 March 1997 – Medan to Prapat
Bang, my guide and Sahril my driver for the trip collected me from my hotel and we set off on the 120 km, three hour trip on the Trans-Sumatra highway from Medan to Prapat on the eastern edge of Lake Toba. There was some crazy driving with buses and mini-buses determined to overtake. We drove through plantations most of the way – oil palm, rubber and cocoa. We passed through two large 'towns' (probably Tebingtinggi and Pematang Siantar) – both based on money from the plantations which are all government owned. It was quite bumpy in the minibus although the road was a tarmaced 'main road'. There were very few women wearing sarongs in the villages along the road.
We had lunch in Prapat – I had soup and fried rice. After lunch we went to a traditional Toba Batak village near Balige at the southern foot of Lake Toba. (I did not realise it at the time but this was, for me, the most interesting stop of the whole visit with some beautiful Toba Batak houses still in original condition and I met weavers who showed me some of the best Toba Batak weavings that I saw on the trip.) We went into one of the houses with the elderly lady who lived there. She showed us her backstrap loom set up against a beam in the house. I bought an old ulos (a bintang maratur) from her which she said that she had woven when she was about 40 years of age. She could have been about 80 plus years old (in 1997) suggesting that the textile was woven in the 1950s. A wonderful ulos was produced by another woman (an ulos pinunsaan). I tried to buy this textile but the price started to rise as I negotiated after the son of the woman selling it appeared and was not keen to sell it. It was clearly a heritage piece. Whether she had woven the textile herself or whether it was a family textile I was not able to ascertain. In my ignorance of Batak textiles I did not realise that this was the most significant Toba Batak adat textile! I took a photo of the woman with the ulos although I did not have a chance to take a proper photo of it. I also bought a new, traditional style weaving. The old houses had traditional carvings and paintings on them.
I was surprised to see several small villages of old Toba Batak houses in the trees, across the rice fields. In most cases the roofs were not palm thatch which had been replaced with the modern form of roofing, corrugated iron.
We went on to Lubahan Garaga and visited a very active Friday market. I bought 2 more ulos (mangirings) – one at Rp 10,000 and the other at Rp 20,000. We arrived at the Hotel Niagara (Prapat) which was situated up a hill above Lake Toba at about 5.50 p.m. I had a quick swim, shower and then a glass of white wine and wrote a card and these notes before an enforced early dinner at 7.00 p.m.

Saturday 8 March 1997
After breakfast, following some persuasion last night against resistance, Bang located the driver and they took me down to the Prapat market where Bataks come from around the lake, especially Samosir Island. (I had specifically said that I wanted to visit this market when booking the trip!) I bought 2 ulos. One small one, Rp 40,000 from Samosir Island supposedly made by the vendor's grandmother who lived at the end of the Island in the mountains (a bintang maratur). I then bought a very good quality ulos (again reputedly woven by the vendor's grandmother on Samosir Island, for Rp 300,000 (a bolean). I took a photo of an old man in an 'antique shop' who was carving and promised to send him one of the photos. I left him my address. We were back at the hotel at 11.40 before lunch at 12.00 noon.
After lunch the ferry ride to Samosir Island was quite pleasant. Unfortunately Ambarita and Tomok were very touristy and engulfed by sourvenir sellars – most of the stuff was pretty tacky. I bought an embroidered purse Rp 13,000. (Gayo From Aceh). Everything around the Lake was very misty and grey and it started to rain in Tomok. I sat in peace under a shelter in front of 5 long-houses which were well cared for and obviously loved – two with lots of potted plants.
When we got back to the hotel I had a swim although it was pretty grey and felt a bit cold. I was taken down to town to a Chinese restaurant for supper. I was the only person in there apart from the owner's family and the TV! We returned to the hotel for 8.00 p.m. for a Batak vocal show which started after 8.30 p.m. I joined with a group of Dutch tourists to watch it. There were five male musicians and five female dancers. All of them sang. It was quite good except for the insistence on the audiences joining it!
Sunday 9 March 1997
We left at 8.00 a.m for the long drive from Prapat. We drove through farmland and stopped at the highest point around Lake Toba (10,600 km). The view was very misty and grey. I enjoyed a ginger tea and a banana fritter. The road was very bad for quite a long way with loads of potholes. Eventually, before going into Brastagi for lunch, we went to the Karo Batak village of Lingga. I was shown around by a very nice Karo man (Ginting) who had been to Medan University and studied architecture. He had come back to the village and was working on restoring and maintaining the traditional Karo Batak houses. His grandfather had also been an architect. He informed me that the lizard decoration on the wooden board on the houses was actually string tying the boards togther. The 'legs' of the houses sit on stone. Between the wood and stone was palm felt which acts as a shock absorber for earthquakes – of which they get many including one the previous week which had meaured 6 on the Richter scale. No nails were used in building the houses. The five colours of the painted designs on the houses represent the five sub-tribes of the Karo Batak. (Ginting was blue.) The Karo cannot marry within the same group.
[Usual idea of 3 region trinity of god - heaven, Batak people, devils.] I bought a Batak calendar made in the village; from which I was told that part of the money would go to rebuilding the traditional houses. It poured with rain and we sat in a little hut where crafts were sold. Ginting played me a tune on a flute (which young men have to do through the window of a house to attract girls) and chief of the village played a drum. The drum had extra piece on the side to give a much deeper note.
I was told that there is a separate house where young men have to sleep after they are 17 years old and must leave the main house. Ginting had three children, 2 boys of 12 and 8 and one girl of 4.
I asked if they still did weaving in the village and the chief came back with a two pieces - a red shawl and an indigo sarong. The sarong had gold (like songket) and subtle ikat. He said that it had been dyed indigo in the village. It was a new piece. I paid Rp 100,000. I was told that it had been made by the chief's family. [The term uis gura is similar to ulos]
We then went to the town of Brastagi for lunch at a hotel, Chinese, 'The Rose Garden'.
After lunch we set off down a long but interesting lane through Karo Batak farm land with hedges of hibiscus. There were old women walking along with uis gara wrapped around their heads and wearing sarongs. The base colour of the weaving for the uis gara is a wine/maroon with ikat. We eventually arrived at Barusjahe. There were several old houses although most were in poor repair and not inhabited. The people seemed quite friendly. I photographed one old lady as she wrapped her head in her headdress. I saw a rice store and, next to it, a store for the bones of the ancestors of the first Barusjahe family. It was a very pleasant visit and interesting. We then retruned back down the road. Again there were several women wearing ikat uis gara.
Checked in a Sinabung Resort Hotel in Brastagi. I was in a chalet. There were quite a lot of noisy Malay/Chinese youngsters. I had a swim and then a wander around the gardens. I was able to have dinner later at 8.00 p.m. I telephoned Mum as it was Mother's Day.
Monday, 10 March 1997
I had breakfast at about 7.45 a.m. It was a lovely bright, sunny morning after torrential rain. I could see the mountains (volcanoes) around Brastagi. After breakfast I had a sunbathe by the pool. At 10.00 a.m. we went to Kabanjahe to the market. I bought a uis gara (wine coloured) for Rp 40,000 and then a lighter one for Rp 15,000 at a shop where the shopkeeper demonstrated how to wear one and also how a man would wear his and a kerchief around his neck. Good colours in the stalls, lots of uis garas and sarongs and lace for [tops]. Quite a few elderly ladies around the market wearing their uis gara. We then went to a village which was almost in Brastagi which had some old houses. We went into one of them which seemed to be quite cool. I bought another uis gara Rp 40,000. We returned to the hotel for lunch which I had outside.
Tuesday, 11 March 1997
We left the hotel at 8.45 a.m. to return to Medan
[rate of exchange at the time - £250 = Rp 975,000 (Rp 3,900 = £1.00)]