Since 1986 until 1994, my mother has been in ulos business, too. But not in the way of preservation of it as the old textiles. She created ulos to be used in fashion, accessories, etc. But this business could not be ran since she's bankrupt. I will tell you more about this if you are interested.
My mother adores and loves her (Ernestina) more than ( to ) her mother.
and then the business was closed since monetary crisis on 1998.
About these old ulos, it was begin when my mother told me about them in 2004. She was sad because she knows she can not take care of them anymore, although they are heritage of our family. I promised her to help to find someone who can.
Vera Tobing in Tarutung 1990) and a weaver. For a few years my mother and local government had ran / developed a small group of weavers for better quality and better design of ulos, and made income for the weavers. This program was her idea and the government promised to help. But the program had to be stopped because my mother could not support the weavers just by her self ( government could not keep the promise ) any longer.
Here are more photos of my family. By the way, the first I have sent, title: VeraT in Tarutung 1990, is the picture of my mother ( her name is Vera Tobing ) and a weaver. For a few years my mother and local government had ran / developed a small group of weavers for better quality and better design of ulos, and made income for the weavers . This program was her idea and the government promised to help. But the program had to be stopped because my mother could not support the weavers just by her self ( government could not keep the promise ) any longer.
my sister's ( Bintang Irene ) wedding party on January 21st, 2006. And so was the photo of me and my mother ( yes, we're getting fatter lately; by the way, my mother is 63 years old now ), and in this usual wedding party - not traditional batak's wedding party - my mother took time to give ulos ( mangulosi, means to bless ).
Next, I will send you better photos because my sister keeps them and she is in Papua now.
Maria and her mother, Vera 21 Jan 2006

About my mother's products of ulos development, my mother said she has to find out / search which product is still left or saved, because since the end of business, we have been moved to our old house and unfortunately some of clothes could not be saved because of lack of space. So, next time I will tell you which product that my mother can give.

-InAmsterdamExpo.
1981. Vera Tobing ( left ) 's stand was visited by Queen Juliana, in Amsterdam, the Expo of Indonesian Business Woman Association.


-UpakartiAward.
Vera Tobing received award from Presiden Soeharto in Jakarta. (Upakarti Award is appreciation for whom creates great product or program for people). She wore Sadum skirt and Sadum -tailored- selendang.


-Ulu Puca.
From Porsea, ( one hour from Toba / Parapat ). The origin Ulu Puca is similar to Ragi Idup from Tarutung, the difference is in its pinarhalak ( main / head motif ). My mother developed Ulu Puca to be woven just its head motif. The reason behind was business purpose ; that the head motif could be taken more in one sheet of ulos. This head motif is put on material ( leather or other cloth ) products, such as; hand bags, shoes, long skirt, selendang, table clothes, etc.


-Vera&JETROcs.
When my mother visited Japan for JETRO program ( three times; 1985, 1986, 1987 ). Jetro was a client who was very interested in Ulu Puca motif, and they asked my mother to supply thousands sheet per month, which impossible order for us to make. 'Just' because my mother could not able to make and manage more group of weaver.


-VeraT in VeraUlosGallery. ( 1987 )
My mother posed in a corner of her gallery. She wore UluPuca long skirt and selendang.
Yes, among other ulos, only sadum which I knew has words on.
My mother said, Sadum is still - frequently -used today, worn by married women for batak ceremonies. Today Sadum is simplification of Sadum B in variation of its motifs and colors. If there is modification to make it better -in appearance or quality- then you can find 'glitter' Sadum (using gold threads) or thicker Sadum (hand made, not by weaving machine).
I remember why Mr.Ernestina joined us in Medan on 1975. My mother and my father had been lived separately since 1970 and my mother divorced him on 1975. My grandmother could not approve the divorce what ever the reason. She said it would humiliate our family because it has been never before a divorce happened formally in batak family and ( my grandmother was catholic ), even more if a wife divorces husband. And she was right! All the people around us suddenly knew my family because one of the vocal local news paper released news about us for years. In 1980 my mother married my step father who was Moslem. Again, my grandmother was very very upset. So, in the hardest years of her life, my mother only be supported by her grandmother. Although a few years before my grandmother died my mother and her mother became better in their relationship, I could see that they had never been so closed as my mother and her grandmother was.
Inside the parcel, I also put 'a few things to be remembered' from my mother's business. I give them as gift for you. They are :

- A small poster of Batak's wood craft.
My mother hired a craftman from Silalahi, a village near Tomok - Lake Toba. His job was creating or remaking of batak's wood craft. The photo shows King's accessories for medicine, coins, and water.
I made this poster as background of our ulos and craft collection that exhibited in a few hotels or gallery in Bandung ( 1996 - 1997 ).
I am sorry about the condition is not so good anymore.

- 3 photos of Ulu Puca and Pinarhalak motif that was re-disigned by my mother. I made the photos for interior accessories ( framed, put on wall ).

- Sets of postcards.
I printed them also in Bandung and put them in hotels, gallery, and my campus.
Mrs. Ernestina and her husband had been spoiled my mother even more than her youngest daughter, since my mother was born until teenager. Since early her high school, when she had to stay with my grandmother in Medan, she became sick frequently ( then we knew the reason was because my grandmother was a little 'mean' to her ). Her first big mistake was being a runawaybride just to be aparted from her mother. She was 18 yr old.
My father was Tarutung people, my family name is Tarihoran, not common even around bataks. Tarihoran is in Bor-bor group ( of 13 fam ), the head is Pasaribu. My father's church was GKPI ( Gereja Batak Protestant Indonesia ). GKPI was separated from HKBP. He was the only son of a rich business man in Medan. After my second brother ( the third, I am the fourth ) was born, my father spent his time and money in Lapo Tuak ( like saloon ). And since my youngest sister was born 1970, he married again behind us.
About my mother's life, how much she's been suffered, and her struggle to raise us, is a kind of amazing story to me. The divorced trials ( 1973 - 1977 ) were the hardest times for my mother because of interfering of Tarihoran's head. My mother fought for the right to raise her children. And she won us, because the judge could see her struggles. After the trials, my family was punished by church's penalty. Me and my bro. & sisters went to catholic church.

It was 1973 when my mother met my step father. He was a widow. My mother ran an architecture consultant business which she learned when my father still ran his family business. My step father 's family name was Hasibuan ( South Tapanuli, mostly Moslem ). He was an architect and work for government in public works department. Now you can figure out their first met situation. And guess why am I become an architect? :-D
My mother's church is Protestant Charismatic ( after my step father died )
My mother realize that she opens our family 'book story' in selling her collection, and she doesn't mind as long as the ulos deserve their better home. We are very glad to share event though we realize that we have less knowledge of ulos than the book writers you have told me.
And we thank you for so much efforts of you making these ulos and our family history can be performed in web. My mother - never been used computer - tries hard to understand about being published in web world. What she could take it is all published like a book and distributed via internet.:-)
P.S
Mrs Vera Tobing has one Ragidup Toba - I have not made its photo because it is just arrived yesterday-, and I can see the patterns of its pinarhalak is defferent; it is richer, and the pattern's size is bigger, but the Tarutung version is more fine ( we think so ). And she has 'selendang ragidup' ; just another creation of her design experience. This selendang is just the central band and has no lateral bands. And its length is 25cm shorter than the original version. My mother wore this selendang at the death of an elder. This selendang is not used for adat ceremony. When she produced and wore it many women wanted this selendang.

Mrs Vera Tobing was born in Siantar, October 23, 1943

My mother decided to sell the 'new' ulos because she has no good place to keep them well. All the 'new' ulos are given to her from Mrs Ernestina ( her collections : Sibolang1, Ragihotang1 ), from Mrs Tianur ( her collections : 2 Ragidup Tarutung, Sibolang2, her weaving : Selendang Sadum ), and from Mrs Helena ( Mrs Ernestina's collection : 2 Ragihotang, Mrs Tianur's weaving : Sadum ).
Next I will send you photos of Ragidup Toba and Selendang Ragidup, both are Vera Tobing's collection.
My mother decided to sell the 'new' ulos because she has no good place to keep them well. All the 'new' ulos are given to her from Mrs Ernestina (her collections :
Sibolang1,

Ragihotang1 ),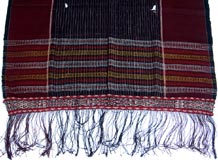 from Mrs Tianur (her collections):
2 Ragidup Tarutung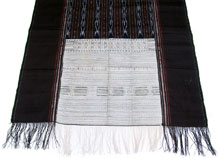 Sibolang2,
from Mrs Tianur her weaving:
Selendang Sadum),
and from Mrs Helena (Mrs Ernestina's collection):
2 Ragihotang,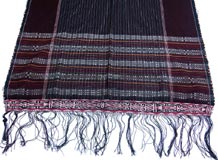 Mrs Tianur's weaving:
Sadum).

About the difference of Ragidup Tarutung and Toba / Porsea, is in their pinarhalak. In Toba version it can be fulfilled with various motif. Later, from photo Ragidup Toba -Vera Tobing collection- you can see its pinarhalak more clear -or vocal ?- but if compared to Tarutung version you can see Tarutungs is finer.
The symbol of male or female is just same in Tarutung or Toba version. The photos of agidup1&2 I have sent, both are Ragidup Tarutung. But Ragidup2 has ikat line motif - the center band- like Toba version.
-Ragihotang3, was taken together with the other Ragihotang1&2, but the photostudio ( and maybe me, too :-) )might have been confused to choose this Ragihotang to be burned and saved in cd.
This Ragihotang was Mrs Ernestina's collection and given by Mrs Helena to my mother when she made trip to Siantar. as thin as Ragihotang2, and thinner than Ragihotang1. It has no bead. Good condition. Ages about more than my mother's ( 62's ).
-Ragidup Toba, is my mother collection. She made special ordered in Porsea when the business was still running.
So is Selendang Ragidup

About the old photos, ( I think - in about 1953, if my mother was 10 ) Mrs Ernestina looked not much younger than she was in 1981 photos, and she was prettier when she was older ya. Family's photos were taken in Siantar ( I remember the rotan chairs ).
(From left to right)

-Mrs Ernestina'sFamily1: Mr Dari Walter, Mr Theodorik, Mrs Vera, Mrs Ernestina, Mrs Oloan.

-Mrs Ernestina'sFamily2: Front: Mrs Vera, Mrs Tianur with Mr Parulian on her lap, Mr Simon, Mrs Ernestina with Mrs Ariatna on her lap, Mr Theodorik, Mrs Lina - Mrs Ariatna's eldest sister -, Mrs Barita with Mr Hotasi on her lap - Mrs Ariatna's eldest brother -, Mrs Oloan.

Behind: Unknown, Mr tahi sumurung, Mr Manulang - Mrs Ariatna's father -, Mr Dari Walter.

-Mrs Ernestina'sFamily3: Mrs Vera carried Mr Parulian, Mrs Ernestina with Mr Hotasi on her lap, Mr Simon, Mr Theodorik with Mrs Ariatna in his lap, Mrs Lina.
The Ragidup Toba is from the time my mother's bisnis was running.
I have re-measured the ulos. Now the fringes are included.

Ragihotang1: 230 cm x 86 cm
Ragihotang2: 248 cm x 79 cm
Ragihotang3: 232 cm x 79 cm

Sibolang1: 264 cm x 88 cm
Sibolang2: 280 cm x 104 cm

Ragidup Toba : 217 cm x 118 cm
Selendang Ragidup Toba: 185 cm x 48,5 cm.

Ragidup1 / Pansamot: 228 cm x 108 cm
Ragidup2 / Tondi: 244 cm x 92 cm

(Small) Sadum: 188 cm x 57 cm
Selendang Sadum: 189 cm x 45 cm
in the second groups there is Ragidup Toba of Vera Tobing own collection, I mean, it is not related to the 2 older Ragidup Tarutung ( the pansamot and tondi ).
Your writing in VTc's intro flattered me...and a little surprise for me to know that my mother was touched greatly when she look at the hard copy of VTc pages (my brother printed them for her in Medan today). Then, she -again- asked me, 'Why does Pamela do this to our family?'... for a moment I tried to figure out what that question's supposed to mean...then she continued, 'What a very kind person she is! Please tell her my million thanks.' Pamela, I hope it is not to heavy for you in upholding this family project.
After read your 1953 photo, I remember my family photo when I was 10yr old. Only my mother and her children (six of us). We made this photo in local photo studio. I saved that only -complete 'old'- family photo when I collected all our photos in my house after back from Bandung. (When I still in Bandung, I met my father -in Jakarta, 1995- after 20 years separated. I got one of his old photo -alone- and that is the only photo we have. My mother smiled when I saw her).
I can imagine that my mother would cry when she look EFs photos.
And if it is necessary, my brothers and sisters:
1. Sondang E br. Tarihoran
2. Anthony MH Tarihoran
3. Edyson S Tarihoran
4. Maria DR br.Tarihoran
5. Rudy SP Tarihoran
6. Bintang I br.Tarihoran

She (Vera) said she believes you would take care of them well and properly. Now she just have her own collection (from adat ceremonies she attended or being involved) left.
My mother had been lived with Mrs Ernestina in Siantar since she was born until got married in '60. She just had been lived with her mother for a year -in third junior high school- and back to Siantar because she'd been sick all that year. I guess like a home-sick ya. Mrs Ernestina her self breast feed my mother, after 4 years gave birth her youngest child Mrs Helena. Her breast had no milk anymore, but -my mother said it was a miracle- after consumed wine, tuak (traditional drink from palm tree), and bangun-bangun (a kind of vegetable for breast milk production) her breast could be filled with milk again.

Mrs Vera's Ragidup Toba was ordered by her from Porsea in 1983. Yes, it is have been quite similar for many decades before.
Mrs T was the first child from mother br.Tobing. Her illness after gave birth (to Vera) might be a kind of baby blues syndrome.
Vera's ulos business? There was an Ibu Vera from the Silindung Valley living in Medan who won an award from President Suharto. She was a Tobing married to Aminuddin. She commissioned ulos from weavers, and converted it into fashion. I interviewed her in the 80s. Is this the Vera whose textiles you are looking at? I tried to call her unsuccessfully the last time I was in Medan in 2003, and wondered what had become of her business. This coincidence would be too remarkable for words...
Sandra Niessen said, She was a Tobing married to Aminuddin... after divorced my step father was Aminuddin Hutasuhut (south Tapanuli).
I interviewed her in the 80s... and...This coincidence would be too remarkable for
words..." I was surprised! My mother didn't told me before, she must be surprised too if I told her tomorrow.
I tried to call her unsuccessfully the last time I was in Medan in 2003... it might be because my mother had moved from gallery+house to our first home.
..., and wondered what had become of her business...please tell her now my mother is just a house wife, taking care of her three grandchildren and active in church and/or Gospel.
Sandra said, '...Philip O.L. Tobing is the reason I started to study the Batak at all..' Did she mean the former North Sumatra Province governor? If yes, he was our relatives (sorry again I have to ask my mother the relationship) and his wife lives in Tangerang Jawa-Barat.
Mrs Tianur/Mr T S's house in Medan. Mr Tahi Samurung didn't leave it to Mrs Vera, but to all his children. He said that house is jabu parsaktian ( a house that is owned and can be used by all and please don't sell it ). First, all of them can understood and took the message. The problem was arising when Mr Frans told all of them that there was a man who asked if the house is for sale. Mr Frans and wife has been living there until now. Mr Parulian's wife (Linda br. Batubara, became widow since 1987 or 1988?), has been living in Tebing Tinggi (about 100 km from Medan) for continuing her mother's job as give-birth helper nurse, and she is lived in her mother's house since her mother died. This house was a legacy for her brothers, and when her brother needed money he asked her to move. She was confused of being asked to find a new house since she had no money. And she could not leave her patient too. So, when she knew that the house in Medan might be sold, she hope that she got help to solve her problem. Mr Frans also said that mr Simon asked how much the price that the buyer offered. Then, my mother suggested Mr Simon to sell the house to help Mrs Linda (Mr Simon promised to take care of Mrs Linda and her daughter in Mr Parulian's funeral), but if it should be always the jabu parsaktian, please just buy it for himself because he is the rich one in family. My mother could make such suggestion because she bought Mr Tahi&Dari's land (then became her ulos gallery) because she was the rich one among the family. But Mr Simon said he had no enough money, and he could not help Mrs Linda. then Mr Simon's wife and mother in-law made a adat statement that boru has no right to legacy (but Mrs Linda is not boru here, isn't she?). That hurt my mother's feeling. Even if they accused my mother might had interest in this legacy, my mother said she's just worth it because she was the one who build it. Later, Mr Simon bought Mr Linda house in Tebing Tinggi, (after Mrs Linda's daughter beg him) so Mrs Linda can stay there.

My Mother has Mrs Ernestina's little land and a few houses in Siantar. Beside ulos and rice land, in adat Silindung there is a father's gift to his boru before he died. So if the gift is not yet given when he died, his boru can have right to his legacy. I heard this from Mrs Ariatna's husband, who knows much about adat batak.

About Pinunsaan and Ragidup, my mother didn't tell me about their difference's technique, but she mentioned the ragidup -that we had- are used for adat and pinunsaan (with toba ulos motif) is usually worn by man on had, in pesta bolon (grand ceremony/party) e.g mangokal holi (bone moving) or when an very old man died it is worn by his children. [By the way, when she was given Upakarti Award from Mrs Tien Soeharto, she wore 'pinunsaan skirt' (with some modification and then Mrs Tien made an order of this cloth). But my mother doesn't keep it anymore because it would be sold out everytime she had stock.
My brothers and sisters:
1. Sondang E br. Tarihoran married BM Hasibuan (south Tapanuli)
2. Anthony MH Tarihoran married R br. Damanik (Simalungun)
3. Edyson S Tarihoran (died before got married)
4. Maria DR br.Tarihoran married EHGA Ambesa (Flores/Rote south east Timor)
5. Rudy SP Tarihoran
6. Bintang I br.Tarihoran married R Prahasta (father east Java, mother s.e Timor)

Thank you for the photo of Vera with her award. That verifies that we are speaking of the same Vera. When I saw the name Vera Tobing in your first email I immediately thought of her, but found the coincidence too unlikely. Then when I read your internet site a little more closely, I realized that she had to be the same one. I remember her as being very impressive and dynamic. She made a big impression on me because she was developing a business that was helping weavers, and
she was even given an award for it. But then when I interviewed her, she said that she couldn't survive in this way financially, and was going to start producing Batak textiles mechanically. Precisely what puts weavers out of business. This enormous contradiction remained in my mind, and I felt rather ambivalent towards her.
I also feel rather strange about the fact that she wanted to sell her collection. Here you are doing all this research into her family tree -- and she sold her collection. It seems to be more meaningful to you than to her. That could very well be the case.
I told my mother this morning about an interviewed by Sandra in 80's. She couldn't remember where and when exactly it was because it was the time that she had many interviews.

I wrote, ...please tell her now my mother is just a house wife... sorry I meant a house keeping.
miniature of Sadum. This Sadum was my mother's design for IWAPI North Sumatra Exhibition. My mother wants to give it for you.

The miniature sadum was woven by my mother's weaver in Lumbansiagian Tarutung/Silindung on 1980 for exhibition on Amsterdam in May 1981.
The weaver (photo vera and weaver 1983) is one of the weavers she built.
Mr Philip Tobing -you mentioned- was he the former North Sumatra Governor? If yes, then he is a descendant of the father's brother of my mother's grandfather.
Then Mr Paul Hutagalung, was he the former of Indonesia ambassador -economic division- in Amsterdam? If yes, he is amang na poso of my mother (from her grandmother Mrs Ernestina br Hutagalung) and he was the host when my mother attended an exhibition in Amsterdam in 1980s.