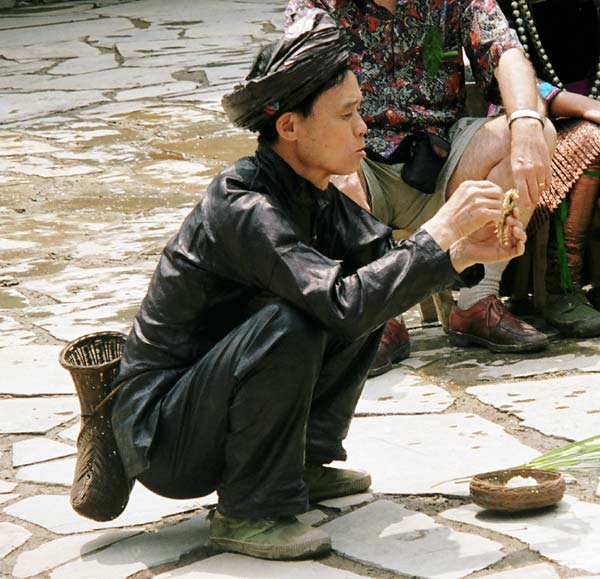 Tuesday 17 May, 2005
I had a reasonable (and cool) night. With the air conditioning on I needed a cover for my head. I took some washing to hand in before breakfast. We left at 9.00 a.m. to go to a newly opened up Dong village Yin Tang village, Gu Ping township, Congjiang county. The village has a population of 1,700 people. We reached the village on a newly made-up road. About 1.0 million (Yuan?) has been invested in the infrastructure of the village in the last couple of years by the provincial government under 'tourism in the countryside'. As we travelled to the village there was heavy rain which cleared up by the time we arrived and it was then a clear, sunny day. We had to climb high up to the top of the mountain to get to the village through stunning scenery. We then went down into a valley with a stream running through it around which were clustered the Dong wooden houses.
The village had two drum towers which were around 150 years old. We were met at the entrance to the village by a group of girls and a smaller group of boys who sang a welcome. We were offered a sip of alcohol and led into the village by the boys and girls to the largest of the drum towers. There was then a long performance of dancing and lots of singing in front of it. There was a demonstration of a range of stages of weaving from ginning and spinning to weaving. The thread was wet and beaten and re-rolled onto spindles from bell cones of bamboo to straighten it. The headman of the village was the school master and he had the dancers very well organised and on a tight reign. There were more dances and one that our group had to join. There was a mock wedding with the three men in our party. I missed this as I was sitting at the side of the square in the shade.
We then saw how indigo cloth was beaten to strengthen it and to give it a shine. Several of us bought a metre of the diamond-weave cloth at 15 Yuan a metre. (I gather that there was some fuss at one stage about the purchase.)
Although we saw this traditional indigo dyed, hand woven, cotton cloth in the village the Dong girl dancers' pleated bronze shiny short skirts were made from synthetic fabric – a gauze type of cloth – as were their leggings. Many of the women's ordinary clothes, made in traditional styles, were also made from synthetic fabrics.
We were able to wander around the village for about 45 minutes before lunch. I found a couple of weavers weaving a twill weave in natural cotton thread. I went into one house and photographed the weaver and two other women – one quite old and the other younger. I went and had a look a the second drum tower which had more ornate animals at the corners of the roofs. I photographed various items of clothing drying on lines and saw women doing their laundry in the stream and a man grinding a small metal rod/pipe. It was very quiet with the life of the village going on around me. The people were very gracious and welcoming.
We had lunch in the upstairs of a newly built guest house. We had a very short time to look a little more around the village and to wander about. I found a woman with a baby in a baby carrier on her back. She was dropping ducklings into the stream from a basket. She would not let me photograph the old baby carrier she was originally wearing but insisted on going into her house and bringing out a new one putting the baby in it.
I wanted to buy a back weight for an apron similar to one that Shelagh had bought in the village. I was dragged away by a woman to a house up the hillside – she wanted Y200 (£13.33) for it. Shelagh had paid Y2 for hers! I paid up as time was running out! It is quite a small weight.